Chocolate Selection Gift Box 325gr | Be Chocolat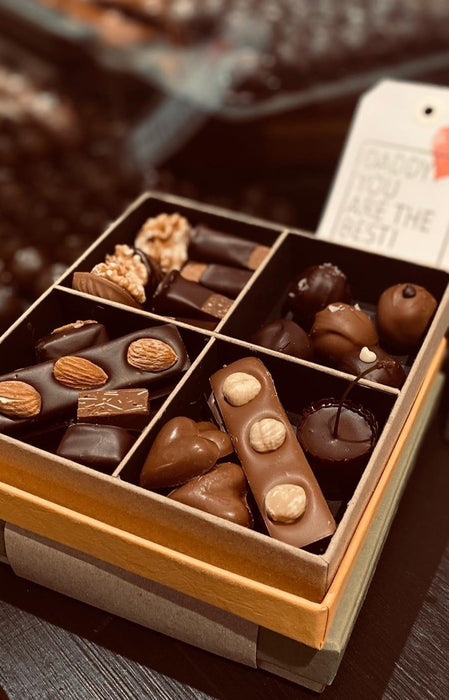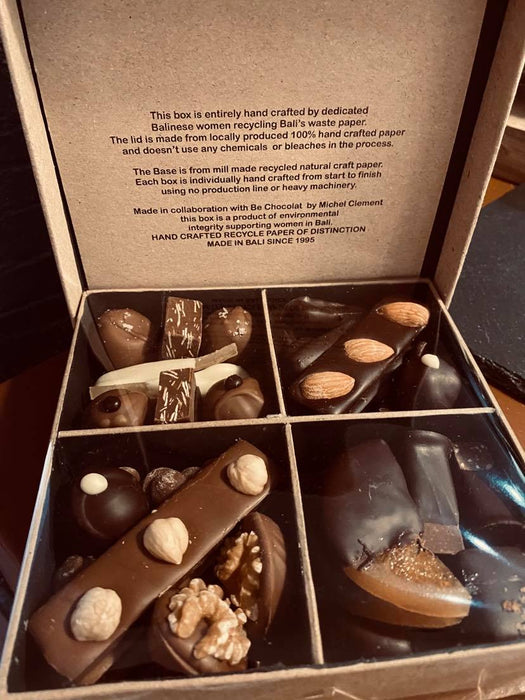 The Perfect Gift for Chocolate Lovers
Be Chocolat is a small batch chocolate company based in Brighton, UK. We believe in making the best possible chocolate, using only the highest quality ingredients. Our chocolates are made fresh in our store by our talented chocolatiers, who take great pride in their work.
Fill your selection box with any combination of your favourites! We offer a wide range of unique flavours including:
Salted Caramel Peanut Ganache

70% Java Ganache

Dark Chocolate & Chilli

Toasted Almond Praline

Waffle praline
We also have a variety of vegan and gluten-free options available.
Our chocolate gift boxes are the perfect way to show someone you care. They're the perfect gift for any occasion, from birthdays and holidays to thank-yous and congratulations.
"Best chocolate I've ever eaten! I love chocolate, good chocolate. Never eaten such fine chocolate. It's magic. It's finding a gift at the end of a rainbow. It's a treasure, it's a must! Buy some now 😀"
In addition to our delicious chocolate, we also offer a variety of personalisation options.
We know that you'll love our chocolate gift boxes as much as we do. So what are you waiting for? Order yours today!
Have you heard of our Hazelnut Chocolate Spread? It will be your new obsession!
Amazing chocolates, my favourite!
The selection is varied - I loved all of the chocolates. Especially the one with the walnut and also the milk bar with hazelnuts. I am only glad I do not live in Brighton as otherwise I would go bankrupt from buying all the chocolates every day!
Amazing as always
I bought the box as a gift, I love this place and their chocolates. Best ones I ever had.
Mixed review
Chocolates were tasty but the box was delivered wet and stank of cigarettes! Didn't even want to store in the fridge let alone give as a gift :/
Chocolate Selection Gift Box 325gr | Be Chocolat
Happy with the service
5 stars nothing to complain about, safe and quick delivery (although arguably that's out of your control), chocolates are very good from what i've heard (they were a gift for someone and i've never been allowed to try any)