Sea Salt Dark Chocolate Slab | Be Chocolat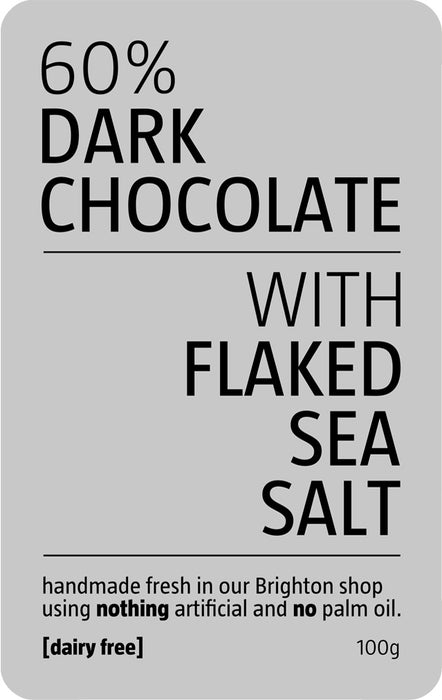 Sophisticated flavours from Dark Chocolate and Sea Salt
Did you know that a little sprinkle of flakey sea salt intensifies the deep and rich flavour of dark chocolate? Our 60% Dark Chocolate and Sea Salt Slab shows off the intense flavour of our sustainably sourced cocoa, brought to life by a little salty crunch. When you try one of these, you will have no doubt that they are made from only the best ingredients.
Our slabs are made in small batches in Brighton. You can watch our chocolatiers tempering the chocolate for our slabs by hand in our store. Or have them delivered to your home (the slabs, not our chocolatiers!)
60% Dark Chocolate

Flaky Sea Salt

Made in Small Batches

Tempered by Hand

Dairy and Palm Oil Free

Personalizable
If you're buying for a friend, why not add a little something special by selecting a stamped message to personalise your chocolate gift!
Dairy and palm oil free. Contains 100g.
If you love dark chocolate, don't miss out on our Dark Hot Chocolate!

Yummy but portions reduced :(
Yummy but portions reduced :(