Italian Coffee Dark Chocolate Slab | Be Chocolat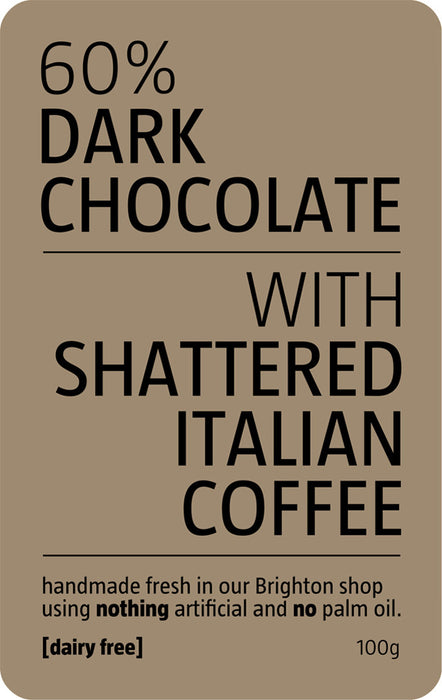 Rich Dark Chocolate and Fragrant Italian Coffee
Introducing our 60% Dark Chocolate Slab with Shattered Italian Coffee – a masterpiece that embodies sophistication and luxury. 
We've combined the renowned flavors of Italian coffee with the opulent richness of our 60% dark chocolate. The result is a harmonious combination of robust coffee notes and the deep, velvety allure of dark chocolate. It's a fusion that will leave you craving for more.
Our dedicated chocolatiers meticulously handcraft each slab, ensuring that every piece is a work of art. This attention to detail guarantees that every bite is an experience worth savoring.
We are committed to environmental responsibility as much as we are to crafting exceptional chocolates. Our 60% Dark Chocolate Slab is packaged in eco-friendly, recyclable materials, demonstrating our dedication to sustainability.
60% Dark Chocolate Excellence

Eco-Friendly Packaging

No Artificial Additives

Complex Italian Coffee
Embrace the bold intensity of our 60% dark chocolate, expertly balanced with just the right amount of sweetness. It's the perfect choice for those who appreciate the profound, complex flavors of premium dark chocolate.
Treat yourself to a piece of chocolate sophistication with our 60% Dark Chocolate Slab with Shattered Italian Coffee.
Italian Coffee Dark Chocolate Slab | Be Chocolat
Superb Chocolate and worthy of praise
Not only is the packaging and website/online experience designed to please, the chocolate is fantastic as well. We discovered the store in person in Brighton and went home to order more. The owner is a true genius and the Coffe/Chocolate blend is superb.