Ruby Chocolate Slab | Be Chocolat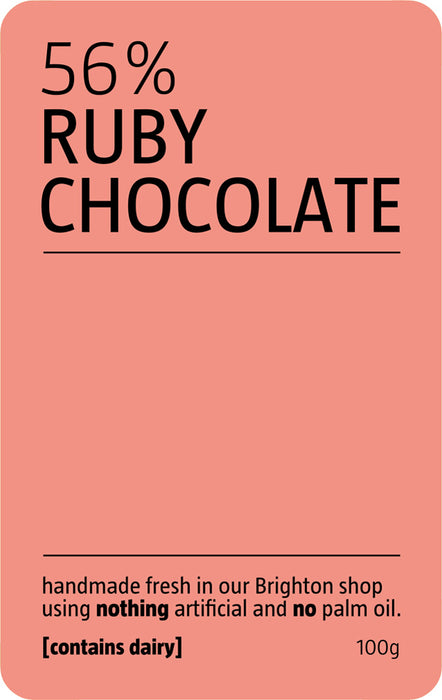 Ruby Chocolate Slab Pretty in Pink
Ruby chocolate makes for a very unique, instagram worthy treat and one of our slabs is the perfect way to enjoy this rare chocolate type! Its pretty pink colouring matches its slightly fruity and tart flavour. Ruby chocolate offers a very different taste to its milk, white or dark counterparts and is well worth trying.
We make all of our slabs by hand in our Brighton store, using modern techniques to elevate traditional chocolatier practices. Our slabs come in 100g bags full of perfectly tempered chocolate shards. These are then packed in our recyclable and eco-friendly packaging before being shipped directly to your door. 
Rare Ruby Chocolate

Fruity and tart flavour

Pretty pink colour!

Recyclable and eco-friendly packaging

No artificial ingredients

Palm-oil free
The Ruby Chocolate Slab has no artificial ingredients and is palm-oil free. 
Our chocolate slabs are also available in lots of other flavours including Milk Chocolate Crushed Honeycomb or White Chocolate Toasted Rice Cereal.