Honey Comb Milk Chocolate Slab | Be Chocolat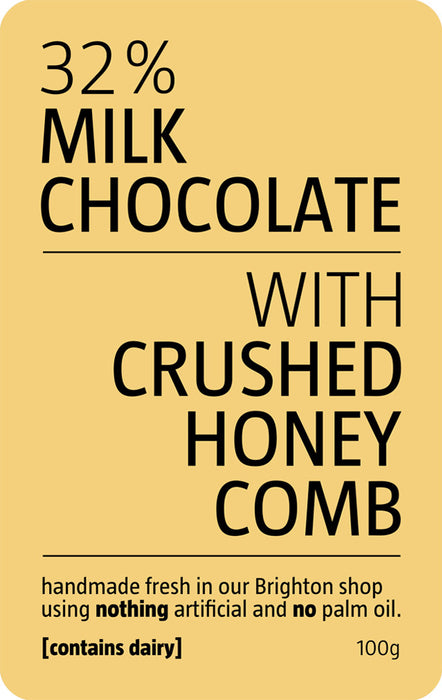 Honeycomb and Milk Chocolate Slab - A Sweet Symphony!
Welcome to a world of pure delight with our Honeycomb and Milk Chocolate Slab! Handcrafted with love in our small batch chocolaterie, this treat brings together the rich creaminess of milk chocolate and the delightful crunch of real honeycomb pieces. Indulge in the simple pleasure of this heavenly combination.
Sweet & Creamy

Irresistible Crunch

Handmade with Care

Palm Oil-Free

Personalisable
Our chocolatiers take great care in creating this slab, ensuring that every bite is a moment of pure pleasure. The smooth milk chocolate melts in your mouth, while the honeycomb surprises you with its satisfying crunch.
Perfect as a little treat for yourself or a thoughtful gift for someone special, our Honeycomb and Milk Chocolate Slab is a celebration of sweetness and joy.
We care about what goes into our chocolate, so you can relish this delightful experience without any worries. Let the sweet symphony of honeycomb and milk chocolate brighten your day. Order your Honeycomb and Milk Chocolate Slab now and let the deliciousness unfold!
100g
Delicious
Love this chocolate. Fantastic taste. Love it❤️