Toasted Rice Cereal White Chocolate Slab | Be Chocolat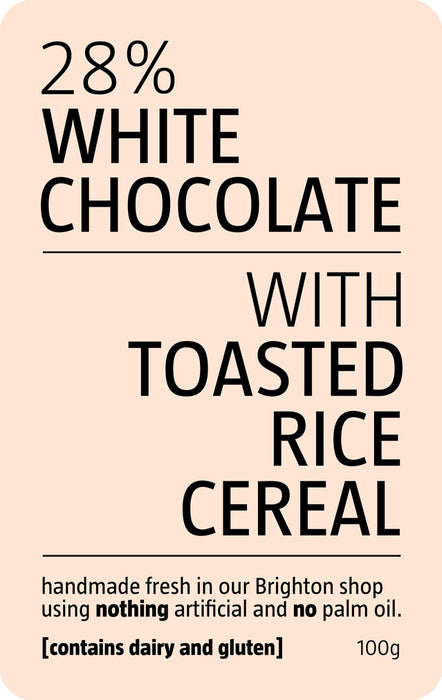 Indulge in Divine Luxury: White Chocolate and Toasted Cereal Slab
Enter a realm of pure enchantment with our White Chocolate and Toasted Cereal Slab! 
Meticulously handcrafted in our artisanal chocolate workshop, this masterpiece unites the velvety opulence of white chocolate with the gratifying crunch of toasted cereal. Immerse yourself in this extraordinary fusion.
Silky Extravagance 




Irresistible Crunch




Artisanal Mastery




Palm Oil-Free Commitment




Customisation



Our artisanal approach guarantees that each morsel of our White Chocolate and Toasted Cereal Slab unveils a distinctive flavor adventure. The velvety white chocolate dances on your palate, while the toasted cereal introduces a captivating crunch that enchants your senses.
Whether you're treating yourself to a moment of luxury or surprising a cherished one, our White Chocolate and Toasted Cereal Slab encapsulates the essence of opulence and joy.
We take immense pride in our unwavering commitment to top-tier ingredients, ensuring you can relish this delightful experience with unwavering confidence. Allow the exquisite fusion of white chocolate and toasted cereal to illuminate your day. Waste no time—order your White Chocolate and Toasted Cereal Slab now and immerse yourself in a world of delectable indulgence!
Weight: 100g
Embark on a taste sensation that redefines the meaning of decadence. 

Why not sample some of our other slab flavours?