Chocolate Selection Gift Box 430gr | Be Chocolat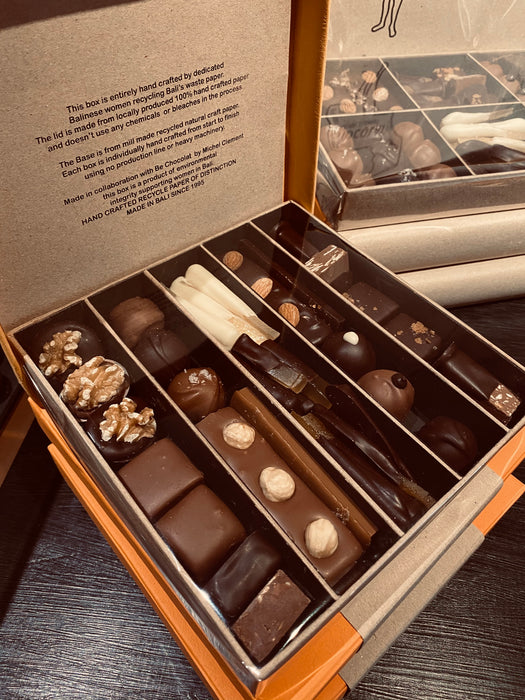 Give the perfect present with a Be Chocolat customised chocolate gift box!
Our personalised chocolate gift boxes are the best way to show someone how much you care. With such a wide range of chocolates to choose from, we have something for everyone. Whether you prefer rich dark chocolate, sweet and silky white chocolate or creamy smooth milk chocolate - there is a chocolate for you and your loved ones at Be Chocolat. 
Take your pick from our range of flavours such as:
Hazelnut praline
Cherry liqueur
Sea salted caramel
Coffee cream 
Gianduja
and many more!
All of our chocolates are made fresh in our store by our talented chocolatiers. We believe in a small-batch approach, where each item is lovingly crafted by hand.
We don't compromise on ingredients either. Our artisan chocolates only contain the highest quality ingredients. The key to making the best chocolates in the world is using the best cocoa beans! And ours do not only make the most delicious chocolate but are also sustainably sourced.
"The best chocolates ever! Bought for my Mother who is a chocoholic. Her verdict - the best she's ever tasted!"
Packaged in our specially designed 100% recyclable packaging. Palm oil free. 
Looking for a vegan option? Why not try our Vegan Chocolate Selection Boxes! 
Contains 430g of chocolate.

The best chocolates ever!
Bought for my Mother who is a chocoholic. Her verdict- the best she's ever tasted!
The Best Chocolates You Will Ever Taste
I had a box of these orgasmic chocolates given for my birthday. Never had chocolates like them. The best. Most delicious. Wonderful combinations. So much so I buy them for all my friends special birthdays and now they are hooked. I wish I lived closer to this place it would be my second home. Don't doubt - they are worth every penny. Beautifully presented and delicious to the last bite. Get yours now - I insist!! Xx
Simply the BEST! ⭐️⭐️⭐️⭐️⭐️
My husband was in Brighton for work and he would normally go to another (recently closed) chocolate shop to buy me a gift but he ended up in your shop. Well I have to say I'm so very glad he did! I'm not exaggerating when I say these are possibly the tastiest chocolates I've ever had! Each chocolate is so full of flavour and the chocolate itself is so rich and thick and just simply delicious. I have your online shop saved to favourites and I will be ordering again. If I had to choose my favourite I think I would say the orange slices dipped in dark chocolate are the best (so far, I still have more to taste). I am fairly fussy when it comes to fruit chocolates and I would never have tried that combination before especially as it's an actual orange slice but OMG it is so good! Thank you for making such beautiful chocolates and for making my day a bit brighter when I have a few.
Awesome as Always
My go to chocolates for all occasions, always get great feedback on how amazing there are.
Lovely Chocolates
Superb chocolate selection in handmade boxes. The chocolates taste amazing and are of high quality. My favourite was the mini almond chocolate bar but they are all fantastic. Very different to the standard chocolate boxes you get in supermarkets and on the high street.