Long Chocolate 250gr Gift Box | Be Chocolat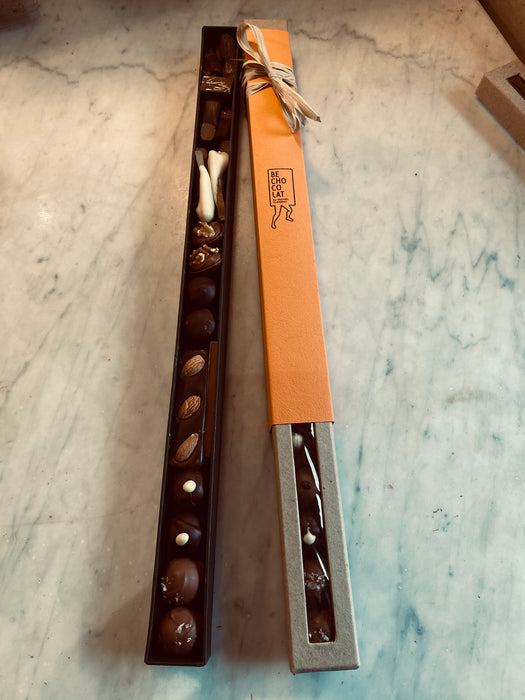 Chocolate Cravings = Satisfied
Satisfy your chocolate cravings with our 250gr Long Chocolate Gift Box. Crafted with care in our Brighton shop, these chocolates are a testament to our commitment to quality. We use ethically sourced cocoa and eco-friendly packaging, ensuring every bite is a joy.
This is a truly unique gift! The long shape gives this chocolate selection an edge over any other gift. 
Diverse chocolate selection

Handmade in small batches

Responsibly sourced cocoa beans

Recycled or compostable packaging

Personalized notes welcomed
Choose from a variety of flavors, including Dark Soft Praline and Caramelised Orangette dipped in dark chocolate. Don't miss the opportunity to add a Dark Chocolate and Honeycomb Slab to your order for an extra treat.

The best chocolate
I discovered Be Chocolate in Brighton about 2 years ago and it's the only chocolate for me.
Now that is how chocolate should be
Delicious- could not ask for anything more
Birthday gift
Ordered the Long box for our sons birthday. Had visited the Brighton shop previously and love Be chocolates . Beautiful chocolates well packaged.
Large Chocolate Gift Box
Delicious. Excellent quality chocolate. I could taste how fresh they were. Will certainly buying again and recommending to friends and family. Can we have a store in London?